AmCham Greece, participated at the Transatlantic Conference 2023, convened in Brussels.
This year's Transatlantic Conference, 'Thriving together: uniting in the face of global challenges' put industry and institutions in the same room to discuss the importance of a strong and united transatlantic relationship, especially on the green and digital transitions. The conference took place on Wednesday, 22 March 2023 and featured speakers from both sides of the Atlantic. As an opening video, Gina Raimondo, US Secretary of Commerce, underlined the importance of keeping the transatlantic dialogue open through forums like the Trade and Technology Council. Michael Miebach, CEO, Mastercard, then expanded on why the focus should be on innovation, sustainability and inclusion to keep the EU and US competitive.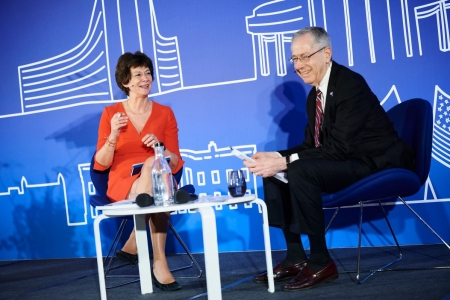 The conference included a series of panel discussions, diving into key priorities for the transatlantic relationship. First off was a conversation focused on how the EU and the US can navigate the difficult external environment. The panelists focused on transatlantic cooperation and the need to collaborate with industry in addressing shared issues. Afterwards, the conversation turned to the transatlantic economy. The speakers explained how to continue economic growth, the EU and US have to find global solutions to shared challenges.
Following the initial panel discussions, Daniel Hamilton and Joseph Quinlan presented the key findings of the Transatlantic Economy 2023 report, the annual survey of transatlantic jobs, trade and investment. This year's edition features new insights into what impact energy transformations have had on the transatlantic partnership. The report also draws attention to trends like global supply chain issues and the need to diversify, relations with China and transatlantic data flows.
After the lunch and networking session, Mark Gitenstein, US Ambassador to the European Union, took to the stage to give his perspective on how the relationship between both sides of the Atlantic is deeper and stronger than ever before. Before moving on to the final panel discussions, we heard a message from Vimal Kapur, President and Chief Operating Officer, Honeywell. By giving examples from his company, attendees were able to see the role that business plays in making policy decisions a reality.
Centering around energy cooperation, one of the larger sessions of the day shed light on why brining green energy production to Europe and the United States is a process that should start now. The final conversation of the conference covered how industry can stay competitive during the green transition and the role governments can play in easing the transformation.
The conference closed with a few words from Zeger Vercouteren (J&J), Chair, AmCham EU who added that despite challenges, the EU and US are each other's greatest partners and the transatlantic relationship continues to prove its strength.