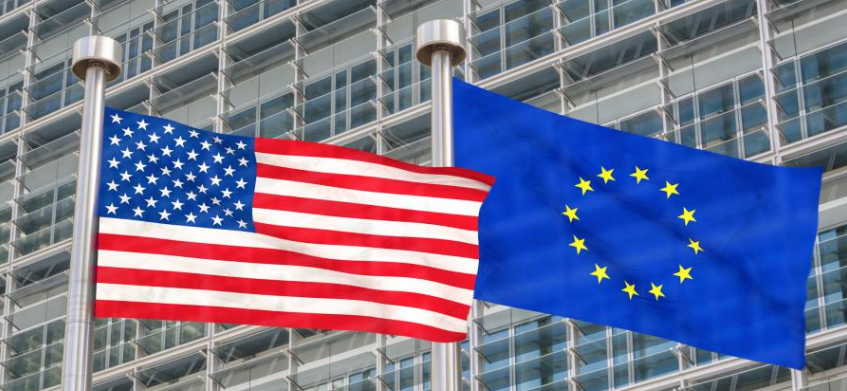 A new study from the U.S. Chamber of Commerce and the American Chamber of Commerce to the EU (AmCham EU), "The Transatlantic Economy 2020," confirms that the United States and Europe share the most integrated and economic partnership globally. Today, the relationship is being tested by the recent impact of the Coronavirus on supply chains and demand, persistent trade disputes, and uncertainty about the contours of the UK's future economic relationship with the EU.  The Transatlantic Economy 2020 report focuses on the strong economic partnership globally, and features analyses of the jobs, trade and investment impacts of the relationship for all U.S. states and 30 European countries.
For example, the transatlantic economy:
supports more than 16 million jobs on both sides of the Atlantic
generates more than $5.6 trillion in commercial sales a year
accounts for half of total global personal consumption
In addition, more than $3.8 billion in goods and services is traded across the Atlantic every single day. No place in the world has attracted more U.S. foreign direct investment than Europe, and Europe remains by far the largest source of foreign investment into the U.S. Moreover, the digital revolution is dramatically reshaping what can be traded and delivered electronically, leading to record levels of services exports in both directions. Research for the report was conducted independently by Daniel Hamilton and Joseph Quinlan for the Foreign Policy Institute at Johns Hopkins University's School of Advanced International Studies.
This annual survey offers the most up-to-date picture of the dense economic relationship binding European countries to America's 50 states. The survey consists of five chapters. Chapter One underscores how the transatlantic economy today is structurally sound yet buffeted by considerable political uncertainties. Chapter Two updates our basic framework for understanding the deeply integrated transatlantic economy via 'eight ties that bind.' Chapter Three explores the transatlantic digital economy, which
in many ways has become the backbone of commercial connections across the Atlantic. Chapter Four offers an overview of European commercial ties with the United
States, and Chapter Five an overview of U.S. commercial relations with Europe. The appended charts provide the most up-to-date information on European-sourced jobs, trade and investment with the 50 U.S. states, and U.S.-sourced jobs, trade and investment with the 28 member states of the European Union, as well as Norway, Switzerland and Turkey. Although the UK left the EU formally in early 2020, our data covers 2019, when the UK was still part of the EU.