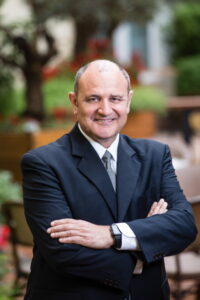 With over 40 years of international experience in the hospitality industry, Tim Ananiadis started his career at the Hyatt Regency Atlanta, followed by assignments as Director of Food and Beverage at the Hyatt Regency(s) New Orleans, Hilton Head, Nashville, Buffalo, and Columbus. In 1988 he held the position of Corporate Director of Food and Beverage for Hyatt Hotels with main responsibilities of menu engineering, product development, recruitment, development and implementation of service standards and training, concept development and pre-opening new hotel support.
Tim's career as General Manager includes positions in the USA at the Hyatt Regency Pittsburgh, Hyatt Regency Coral Gables and Hyatt Regency Miami. In 1999 he joined Hyatt International as the General Manager of the Hyatt Regency Thessaloniki in Greece and later moved to India as the General Manager of the Grand Hyatt Mumbai.
In 2003 Tim joined Starwood Hotels and Resorts returning to Greece as the General Manager/Managing Director of the Hotel Grande Bretagne. In 2006 through 2012 he was given the additional responsibility of Area Manager for Greece, Turkey & Cyprus overseeing 18 Starwood affiliated hotels. From 2013 the area responsibility included the Balkans until Marriott International merged with Starwood when he took over the responsibility of Marriott Business Council for Greece and Cyprus while remaining the Complex Managing Director of the Hotel Grande Bretagne and King George until October 2020. Presently, he is the Senior Hospitality Advisor to the Laskaridis family and on the board of Directors for Lampsa Hellenic Hotels and Luckman Park Estate, both part of the Laskaridis family.
Active in a number of business and non-profit organizations, Tim serves as Vice Chairman of The American Community Schools (ACS) of Athens, Vice President of the Athens Hotel Association, Board Member of the Greek Health Tourism Organization, member of the Board of Directors for the American Hellenic Institute (AHI), and Tourism Committee President of the American-Hellenic Chamber of Commerce (AMCHAM).
Tim's business philosophy of an ideal hotel is one that provides a comfortable, friendly and efficient environment for guests and associates while maximizing financial results through constant innovation, proactive management, and intuitive service. His personal guiding principal is "be kind and treat your associates the way you expect them to treat your guests and they will definitely reward you".
Both Greek and American, Tim was born and raised in Greece and educated at Ryerson University Toronto, Canada. His career was equally divided between the USA and Greece, employed for more than 20 years in each country. Tim and his wife, Jennifer, currently split their time between Athens and Miami, and they have three grown boys residing in Athens, Miami and Dallas.