AmCham Greece supported -as official partner- the 12th annual Follow The Entrepreneur (FTE) Investor Summit held in Mykonos from October 1-5, 2021 at the Royal Myconian Hotel, organized by Viva Investment Partners.
The FTE Investor Summit – live-streamed globally – brought together prominent investors, entrepreneurs, and digital enablers share information & insights on the future of various ecosystems.
The FTE Investor Summit is a thousand strong (over the past 12 years) HNWI / investor & entrepreneur community of investors, business leaders, CEOs, and entrepreneurs (HNWI's) who come together at a Mediterranean harbor city to listen to leading entrepreneurs discuss the future of different ecosystems and industries.
During 2021, the FTE Investor Summit organized a series of receptions in Athens, Kea, and Mykonos, closing with the FTE Mykonos 2021 Investor Summit. It also broadcasts the FTE Campaign 2021 on entrepreneur country TV and social media posts. This year's campaign communicated the key messages of: Greece is Open for Business and Welcoming Investors; The Greek Economy is on the Rise; Greek Entrepreneurs are transforming the Greek Economy and Society.
AmCham Greece contributed content, people, ideas, and expertise to the FTE Investor Summit.

AmCham Greece Executive Director presenting the future of Greece as an elevated investment destination and AmCham Greece's constant presence for 89 years to forge a path for the country towards an inclusive and sustainable future.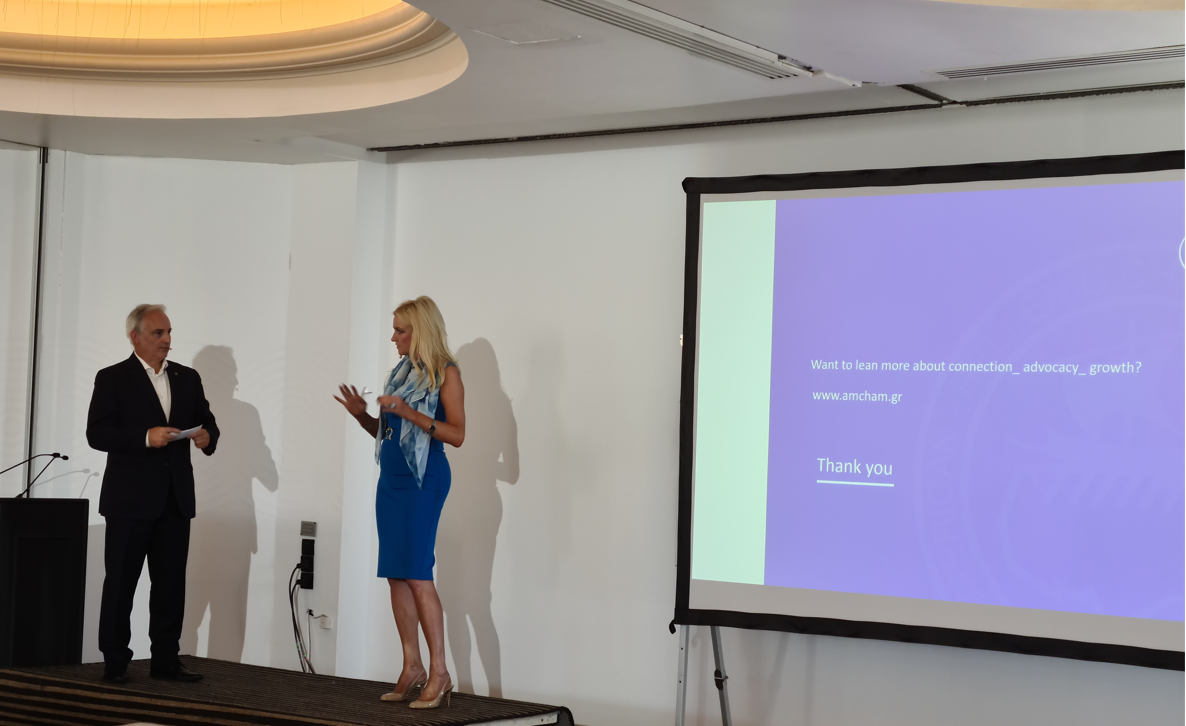 AmCham Greece Executive Director in a Q&A  session with Julie Meyer, CEO of Viva Investment Partners.
Elias Spirtounias, Executive Director at American – Hellenic Chamber of Commerce shared his insights into the recent development of the Greek economy and the upcoming opportunities they are capitalizing on. Greece is currently undergoing positive changes to become an attractive #business environment and a desirable #investment destination. Following the global #financialcrisis in 2009, Greek GDP had fallen 25% while unemployment reached 28%.
However, the government of Greece and especially the private sector showed remarkable resilience and managed to turn things around. The strength of the Greek economy was proven during Covid-19 where they managed to secure more than €35bn to support Greek enterprises and rise above the pandemic.
Want to find out more about the changes of the pro-business government that shaped the future of Greece? Check out Elias' full Keynote Speech on the link below or on the FTE Official Youtube Channel: https://lnkd.in/d6TuReSh
Useful Links: About Follow The Entrepreneur | 2021 FTE INVESTOR SUMMIT | Explore the Schedule